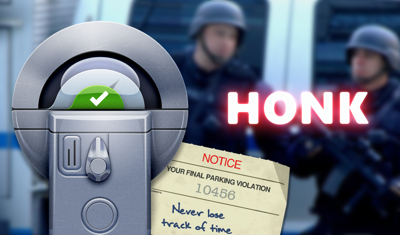 I've made the odd post or two about parking apps, and most of them have focused on finding a parking space.   I noticed an article recently, which highlighted an app for the iPhone which can help once you have parked.
Honk is basically a timer for parking, which will 'honk' you when your time is nearly up.  Sure you could do this with any number of alarm and timer functions, but this does seem to have a clean 'one-swipe' interface as well as some additional features.
You can set voice memos, take photos or text notes, and when leaving the app it will also note your location via GPS, just in case you forget where you parked in the first place.  The timer also uses a more recent iOS feature which allows the app to change the app icon itself and show the time left as part of it.
So while this site was designed to assist after a ticket was issued, maybe apps like this can help prevent some being issued in the first place.
Honk can be downloaded from the iTunes store here.
For those on Android, a similar app called smartpark can be found in the Play Store, although it doesn't look anywhere near as attractive.