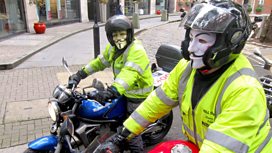 BBC One are showing a documentary tomorrow night at 22.35 about people who dispute parking tickets.  It looks like it could be interesting viewing for anyone who follows this blog.
Aside from the stories of the ordinary motorists fighting their individual tickets, the film also follows 'parking campaigners', dedicated amateurs who insist that the councils are unjustly punishing motorists and using parking as a way to raise revenues. These individuals are passionate about pointing out the injustices of the system, battling the councils and saving other motorists from receiving 'unjust tickets'. Their methods are extremely varied. Some get tickets deliberately to prove their point, others take their parking tickets to the High Court, whilst one group have even formed a masked motorcycle gang to take their fight to the streets.
There's further information at The Bolton news, as it appears that a local who drives around deliberately incurring fines was filmed for the program.  I wonder if the Porsche driver I mentioned last week is also going to be featured?